India is known for UNITY that stands out beautifully in its DIVERSITY. It is a home to varied cultures, languages and religious practices.
Religion is not science or mathematics where 2+2 is always 4 or as per Boyles law PV (pressure*Volume) is always constant or wherein we can question anything; sometimes it's not a matter of right or wrong, it's an element of faith!
Our traditions are manifold and are distinct with different tribe or region; most of the times cannot be reasoned. Why we get married in a certain way in a certain religion base cannot be rationalized; Christians sports white whereas amongst Hindus it is not considered auspicious. It is all about the acceptance by the people and their believes.
WHAT IS SABARIMALA ?
Sabarimala is Lord Ayyappa temple in Kerala; which follows its own customs and practices that doesn't allow women between 10-50 years of age to enter the shrine. Now the big question comes why? Is it not gender in-discrimination? What about women empowerment?
Sabarimala- the facts:
When we talk about Sabarimala; the most important thing to understand is it's not a gender in-discrimination.
Had there been Gender in-discrimination it would have been a blanket ban which is not the case; the girls below 10 years of age and elderly women above 50 can enter the shrine to worship the deity.
Now my next question is why not the ones between 10-50 years? Or the temple considers menstruating women impure?
Well we need to figure out that the point here is not WOMEN but DEITY HIMSELF!
THE DEITY- LORD AYYAPPA
The deity- LORD AYYAPPA is of celibate nature. He is not in the wake of any ordinary Brahmacharya but Naistik Brahmacharya a form wherein the deity doesn't come in contact- physically, mentally or visually with women older than a child or younger than a mother's age.
The men who enter the shrine to worship the deity too have to abstain from all worldly pleasure for a period of about 41 days. The women too can follow Naistik Brahmacharya; since the deity is male they are not allowed during certain age group.
There are several other temples in India where men are not allowed. Thankfully the men have not come up with the question of gender in-discrimination or Men Empowerment!
The devotees who belief or have faith in Lord Ayyappa will themselves won't try to ruin the sanctity by smuggling themselves into the shrine. And for those who don't believe in the deity why they are even bothered to enter the shrine in the name of women empowerment?
It s something like when your best friend is diabetic and is refraining from any sort of sugar and somehow you are adding sugar to his diet so that sugar should not feel neglected!
THE SHRINE
The second important aspect of the custom is the shrine itself. It is not the Vedic temple at the first place. The temple is based on Tantric Architectural Shastras. Sabarimala is also known as Gaandha Malai (Magnetic Hill). The people who have built it placed the construction of temple with high energy and magnetic fields which can affect women in the reproductive age group.
So, it is neither healthy for the deity nor for the women themselves to sneak into the shrine.
THE SUPREME COURT VERDICT
Supreme court is always supreme and is the highest judicial body to interpret the Constitution of India but it is NOT THE CONSTITUTION. Constitution has been amended several times in past. The decisions which costs life and brings unrest to the society is probably not so correct and ideal.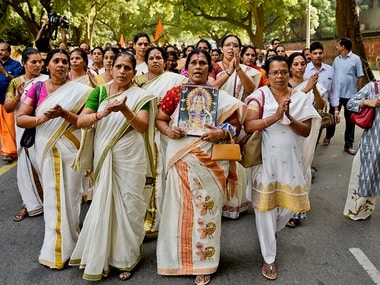 Why don't they try to comprehend the tradition of Sabarimala which is prevalent over 1000 years?
It is still a matter to apprehend why Muslim women who themselves can't enter their own mosques are standing to enter the Sabarimala shrine. Is it an attempt to malign the temples sanctity?
An attempt to suppress the religious belief has already brought unrest in the state; why state Govt. is escorting the women into the shrine where lakhs of devotees are opposing it?
Why there was absolute silence amongst the women empowerment brigade when Bishop Franco was accused of raping a nun in kerala itself? Supporting a woman when she needed help was that not a part of women empowerment?
Probably we are muddled with the meaning of women empowerment itself.
THE REALITY OF WOMEN EMPOWERMENT-
Women empowerment means to fight against physical, mental or social abuse wherein girl child should be allowed to born, get access to education and be able to survive independently, making her own space in this world. It means when we dont let any girl lead a life in misery.
Probably there are better ways to defend feminism!
for more updates…log on to www.invigoratinglife.com

REFERENCES –
https://en.wikipedia.org/wiki/Sabarimala
https://swarajyamag.com/culture/women-menstruation-and-rituals-why-men-should-stop-interfering?fbclid=IwAR0lerftbVgCmRIDYUkXdNGfPlhX2WqLBEDsJG0huaX1Du8p9_MvPQrGAO8
https://medium.com/@pranasutra/naishtika-brahmachari-and-the-need-for-extreme-sense-control-dd234f44f1f6
https://www.speakingtree.in/blog/who-is-naishtika-brahmachari-77641
http://www.newindianexpress.com/states/kerala/2018/jul/31/sabarimala-is-tantric-temple-has-its-uniqueness-supreme-court-told-1851268.htmlh
https://www.hindustantimes.com/topic/kerala-nun-rape-case
https://www.freepressjournal.in/weekend/6-temples-rituals-in-india-where-men-are-not-allowed/834414